Are you a small business owners selling or wanting to sell sustainable handmade products
but struggle to promote your business online?
Join Eco Founders
Membership, Community, Mentorship


from Makers to Founders
Eco Founders is officially opening doors to
Founding Members
in 2021



Does Any Of The Below Apply To You?

I love hand-making products but I just don't know how to promote my business
Hand-making products is my passion but i am tired of not being able to support myself and my family with it.
I don't understand how to grow on instagram to reach more customers.
I am not sure who my ideal audience is yet.
I am confused about my branding, and i wish i had more clarity.
I am trying to scale but i am stuck with the manual side of making products.
I just wish i could follow a path to understand how to establish and grow my business.
From the hands-on passionate building of the foundations...
From having 0 followers or customers, I started my business carrying luggages filled with handmade products and ingredients to market, fairs and workshops. It was an incredible and necessary experience but it
was not enough to cover all my expenses, let alone making a living out of it. I lacked clarity and needed a system in place to be able to step up and scale my business.
To running a thriving sustainable business
I now run a highly profitable and thriving sustainable business which allows me to have a bigger impact, reach and serve more people with my sustainability message. And, most importantly, I do all of this completely online, which means I can have the work life balance I have always wanted, with free time for my family and friends. I am constantly learning and I am a huge believer that there is no "end" and there are no limits to where you want to go and what you can achieve.
Eco Founders is a membership designed specifically for Ecopreneurs:
entrepreneurs with a mission to create and sell sustainable, natural handmade products that are kind to our skin and the environment.

You are just starting out and are serious about opening your own e-shop with the right path and strategies in place

I just opened my own e-shop
You have been having your own e-shop for a little while but feel a little lost, need to gain clarity and support to move forward

I had a e-shop for a while

You have been having your own e-shop for quite a long time but are simply stuck to the same point. You need guidance to get unstuck and finally scale


Your sustainable business journey
starts here.


But you are definitely not alone.


I will be guiding you step by step through easy to digest, weekly content.


The content is designed to fit around your schedule


so that you can make achievable and steady progress.




Follow my steps, and adapt them to your own journey
I will share with you the exact same strategies I developed for my business as well
give you a transparent look behind the scenes
of how I run my own business
(I do not share this anywhere else!)
Every month you will receive:
Bite size pieces of educational content from myself, delivered to you via email with achievable focus items or challenges to help you make progress

A transparent, raw, filter-free behind the scenes and look at how I run my own business, such as: what systems I use, how I produce content for my social media, how much I generate and how I keep a work-life balance

Live Q&As with me where you can ask me anything you want, so I can continuously give you advice, help you troubleshoots issues and solve any doubts you might have along the way

Because you are not on your own. There are so many other zero wasters that are going through a similar journey to you; and sharing your own ideas and supporting each others within this journey is simply invaluable
Take a sneak peek of
what's coming up this year inside Eco Founders: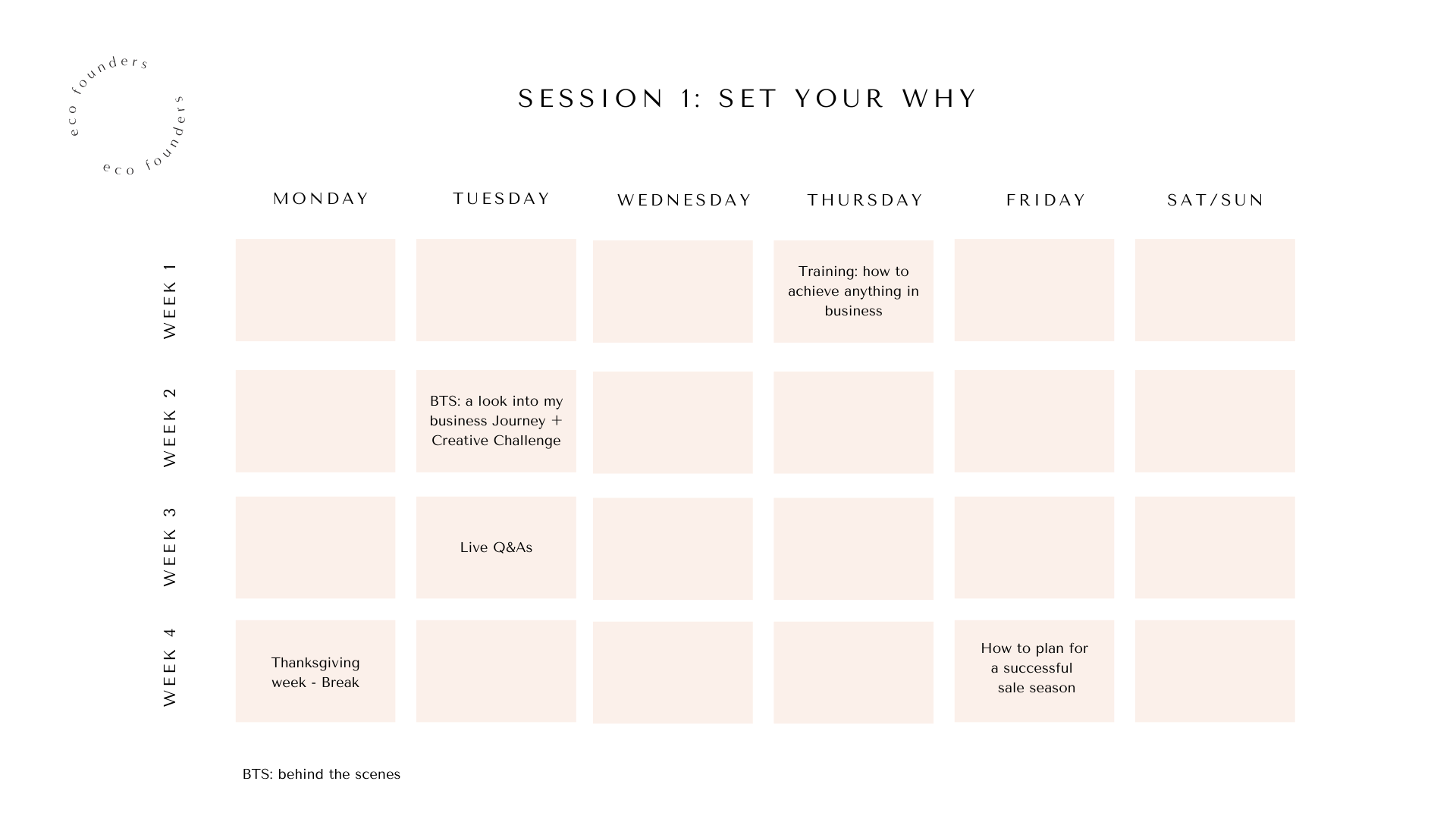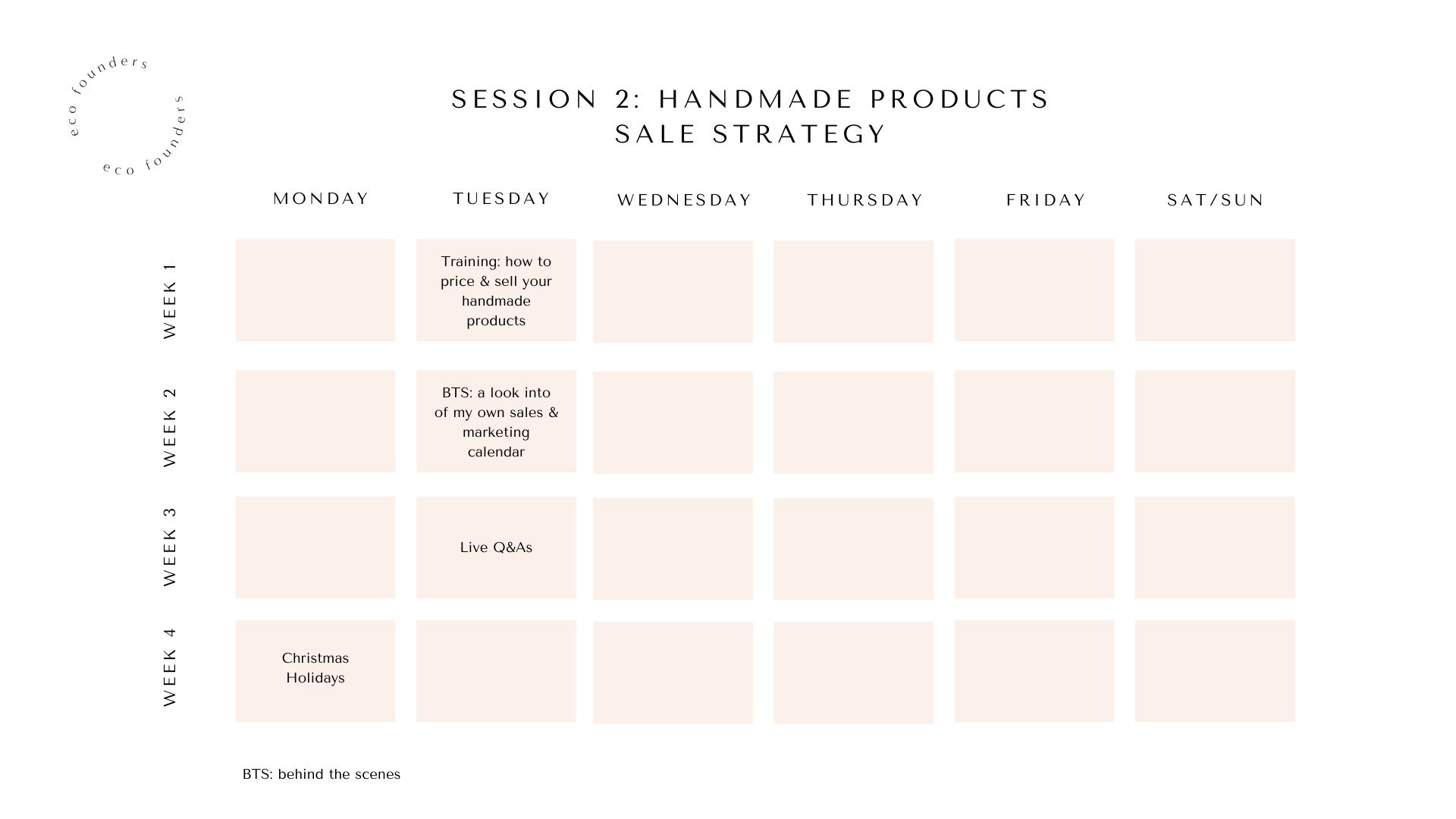 We will cover everything you need to
launch, promote & scale your handmade products business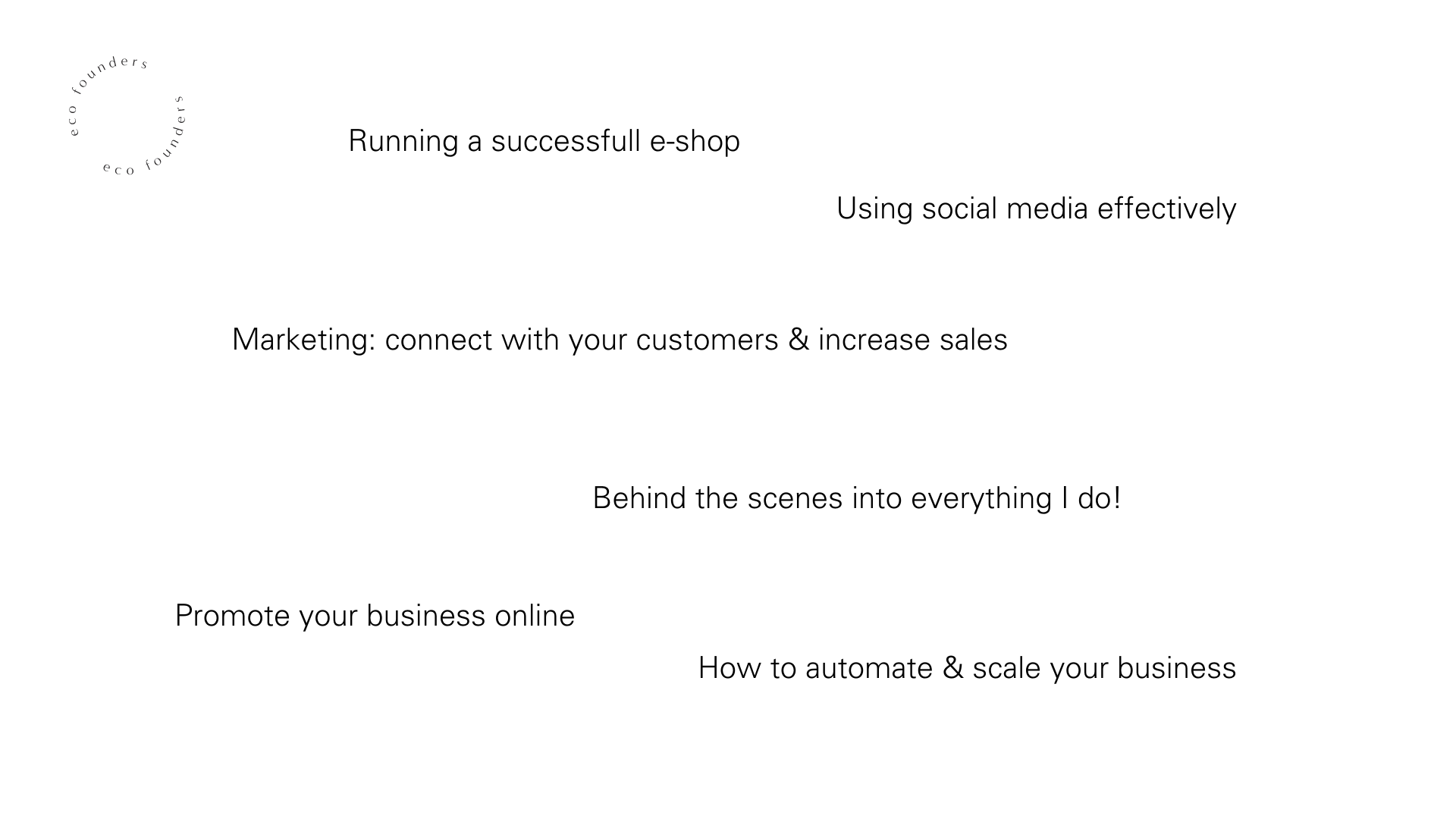 But what does having a sustainable business
really mean?
Sustainable does not mean you have to compromise your mission and you scalability potential:
you can mindfully reach more people with the right mindset and strategy in place.
By joining Eco Founders you are going to revolutionise your business.
Through educational content, industry expert interviews, behind the scenes of my own business and live Q&As,
you are going to learn how to launch, promote and scale your business in a sustainable way.
A sustainable business is a business with attention to eco-practices
but it must be also sustainable for yourself mentally and financially speaking!


Find out where you are on the
Eco Founder success path

Passionate about the environment and just curious about shampoo & conditioner bars

You have tried making your own shampoo or conditioner once or twice but you'd like to learn more about it

You have some shampoo or conditioner bars making experience but you need help getting more structure, recipes and formulas

You have some shampoo or conditioner bars making experience but you need help getting more structure, recipes and formulas

Passionate about the environment and just curious about shampoo & conditioner bars
FREQUENTLY ASKED QUESTIONS
Eco Founders is a journey for Makers who want to become Eco Founders at all levels. Whether you dream about opening your own business or have one already, you are welcome.
Check out the Eco Founders's Success Path to gain clarity on where you are and access insights that will help you progress and grow.
Is there a precise schedule for the content?
Totally! You will receive a new piece of content every week, once a week. You will have access to the final syllabus once Eco Founders officially opens for enrolment.
Do I need to have any marketing/business background to join?

How does lifetime access sound? After enrolling, you have unlimited access to this course for as long as you like - across any and all devices you own.


Will I become part of a Community?

Absolutely YES! Community is key to growing your business, and that is one of the
big perks of joining Eco Founders.
how long do i have access to the membership?
I would never want you to be unhappy! If you are unsatisfied with your purchase, contact me in the first 30 days with your explanation and proof that you have tried the course. If there is a valid reason for why you are unhappy with the course, I will give you a full refund.

what if I am unhappy with it and want to cancel?

If, for any reason, you wish to stop the subscription, you can do so at any time. Absolutely NO strings attached. But I don't think you would want to leave us!
How can I contact you if I have questions?

You can ask me any questions in the discussion area for each Session within the Membership. I will also go LIVE once a month to answer all your questions!
When can I join and How much is it?

Eco Founders currently opens every 3 month - the first enrolment will be in October 2020, and the next one in
Get in touch with me and I will be happy to help!
Please fill out the quick form and we will be in touch as soon as possible!
Alternatively you can also drop an email to hello@bottegazerowaste.com with a clear subject for your query.

Bottega Zero Waste is a registered Trademark

hello@bottegazerowaste.com